"Please Be Brave" Zine
I finished my zine. It's B&W, xeroxed, 20 60lb pages, 6.5"x8.5" with a 80 lb card stock cover. The drawings were done between Wednesday the 10th of June, through Friday the 26th of June in Oakland, and were xeroxed Friday the 26th of June in San Francisco.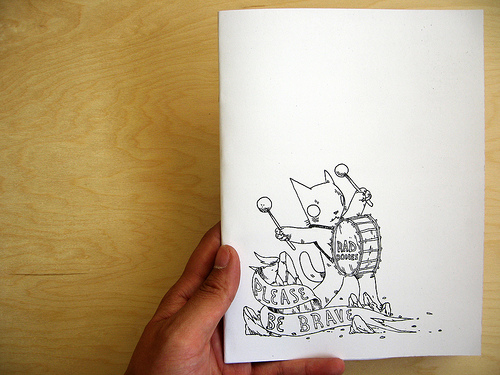 By the way, I started drawing from the cover on. So when I was making my zine the first two pages I finished were page 1 and page 20, and so the last drawing I made is the center spread. It kind of pulls the zine together cause I used two pens, and at first I was just using a thicker pen (pilot v5). Near the end I ran out of stuff to draw, so I just drew stuff as I went, and I started using thinner pen (hi-tec c 0.4). Uh, I know, I know, no one cares.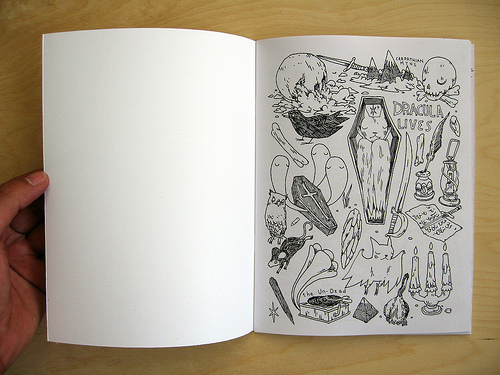 Dracula themed page. Ever since seeing the Edward Gorey Dracula show at the Cartoon Museum of Art last year, I've been really into drawing Dracula related stuff. I think it kind of helps having an ex-goth for a girlfriend, and hanging out with a friend who looks like Dracula's kid brother when he's clean shaven (now he kind of looks like the Wolfman's cousin cause he has a beard). Marci also has Bram Stoker's Dracula on my itunes, and when it's on random it sometimes comes up.
In the picture above are the things I know to draw about Dracula- bats, owls, fog, the Carpathian Mountains, caskets, stakes, garlic, candles, and fountain pens. I like drawing renfield, but I forgot on this one. I should have saved the theme for a spread instead of the first page of my zine.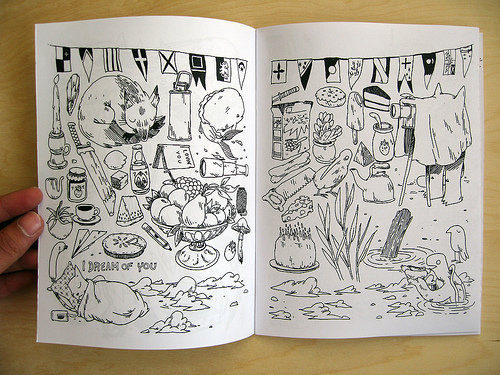 Richard Scarry was a big influence in the way I draw in my sketchbook.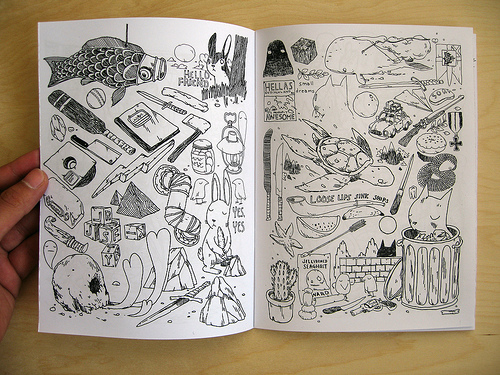 There probably isn't a page where there isn't either a knife, a stone, a skull, or a cat is on.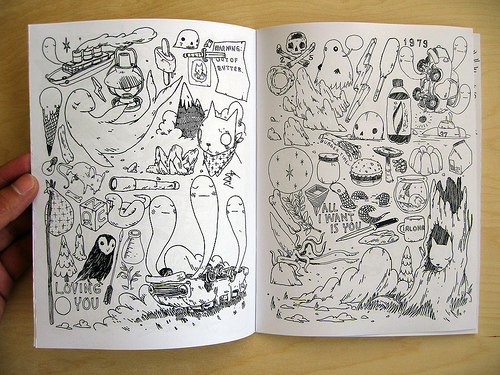 Haunted cars. Everything becomes more spooky if you have a few ghosts coming out stuff.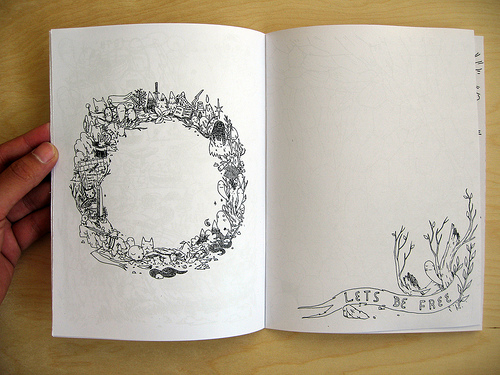 The wreath idea comes from a Moomin drawing.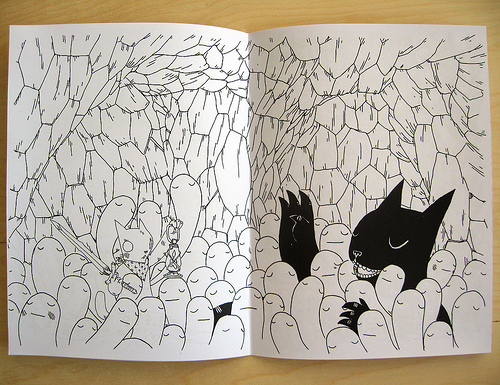 I made a drawing, a print, a painting, and then a glow in the dark painting of this image. So that's why it's my centerfold.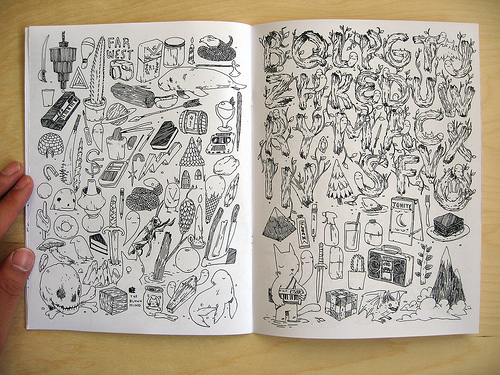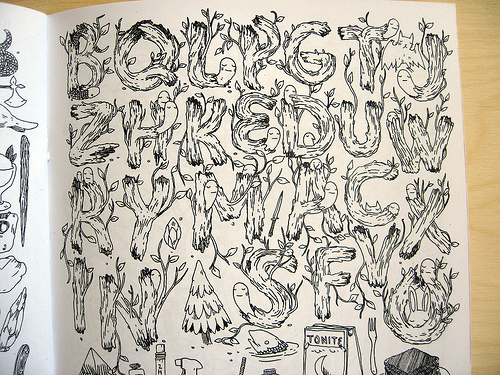 The alphabet is the last thing I drew. I didn't really mean to draw out the whole alphabet, I just drew two letters, but I ran out of stuff to draw so I just kept on drawing letters up the page. I kind of like how they're out of order. We went camping in Butano, a redwood forest south of here. There's a lot of hollowed out trees and the branches moved in a really nice way. I've always drawn wooden text but I think this version is the most organic type I've made.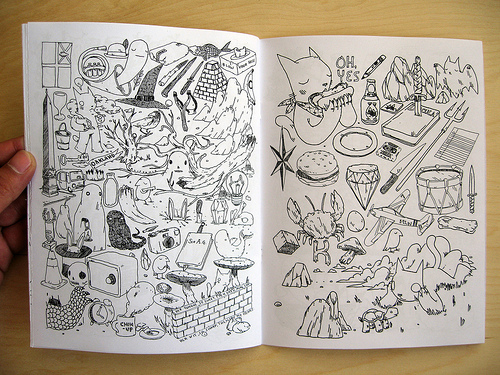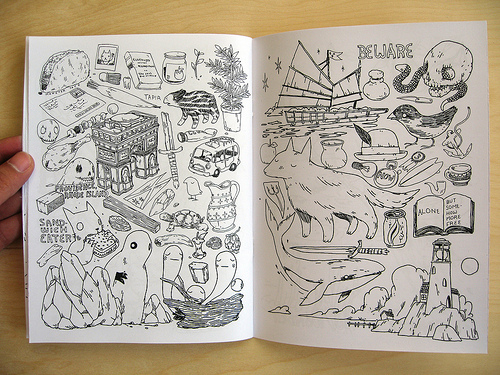 I was really into Triumphant Arches.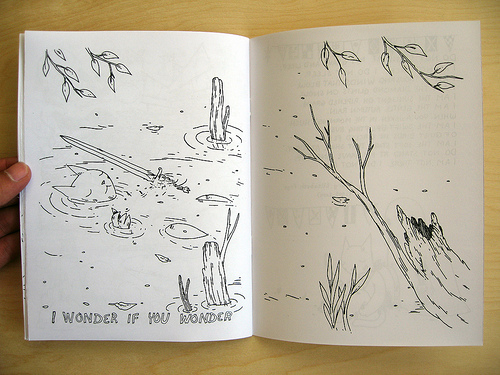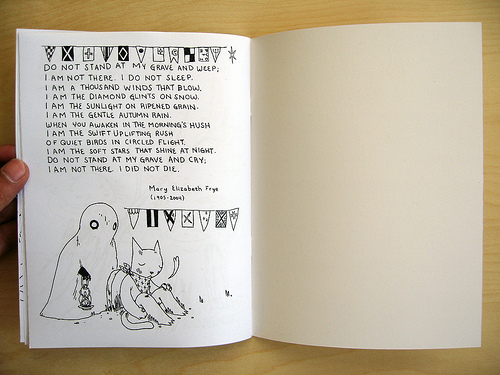 Originally I was going to have a few poems in the zine, but I couldn't find enough that I liked that were short enough to fit. I have this one and another that's put into a small drawing.The poem is by Mary Elizabeth Frye.